Machiavelli has based his teachings in chapters six, eight, and eighteen of The Prince on other teacher's actions. The first thing that needs to be made clear is who are the teachers that Machiavelli has based his teachings on? These teachers are previous leaders who taught their lesson through their actions during their period of acquiring and maintaining rule. Their lessons are teaching how to gain and keep power and how leaders should conduct themselves. This is an important lesson for future leaders to learn if they wish to succeed. These teachers provide valuable information on how to acquire a new principality, how a private individual can gain the principate, and how to act as a prince.
             They way to acquire a new principality is through virtue and arms. Machiavelli argues that you should aim high to achieve success. The best way to aim high is to follow the teachings of previous successful leaders:
 For since men almost always walk on paths beaten by others and proceed in their actions by imitation, unable either to stay on the paths of others all together or to attain the virtue of those whom you imitate, a prudent man should always enter upon the paths beaten by great men, and imitate those who have been most excellent, so that if his own virtue does not reach that far, it is at least in the odor of it. (Machiavelli 22)
 Machiavelli is very clearly explaining that the best way to be successful is to imitate those that have already achieved success. The leaders that are to be imitated are leaders that have gained their principality through virtue. Machiavelli gives four examples of leaders that have gained their principality through virtue. Those four examples are Moses, Romulus, Cyrus, and Theseus. Moses gained his principality through the help of God and the oppressed Egyptians were "disposed to follow him as to get out of their servitude" (Machiavelli 23)." Romulus was not received in Alba because he was to become founder of Rome. Cyrus was to relieve the Persians from the malcontent they felt toward their empire. Theseus was able to display his virtue through the dispersal of the Athenians. All four of these examples were examples of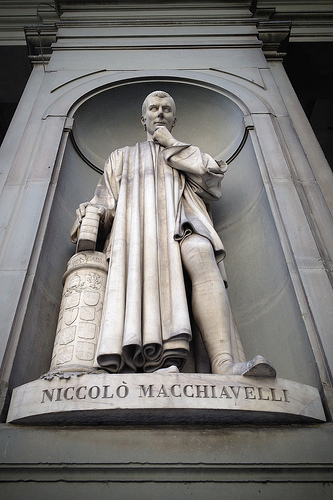 leaders teaching a lesson. The lesson to be learned was that a new principality can be acquired through virtue:
 Such opportunities, therefore, made these men happy, and their excellent virtue enabled the opportunity to be recognized; hence their fatherlands were ennobled by it and became very happy. (Machiavelli 23)
 Machiavelli explains that it can also be learned that gaining the principality in this manner can be difficult, but can be held with ease. The difficulty arises with the promulgating of new orders. This creates difficulty with those who already had the old laws on their side and those who do not truly believe in new things until they have had adequate experience with them. The prince can handle these difficulties in two ways. The prince can prey which will always bring poor results and never accomplish anything or he can use force. If he relies on his own and uses force he will rarely endure peril. The consequence of being unsuccessful in dealing with these difficulties is difficulty in conducting his affairs. The prince must overcome this through virtue. If he overcomes this difficulty he will "be held in veneration, having eliminated those who had envied them for their quality, they remain powerful, secure, honored, and happy (Machiavelli 24)." Machiavelli also explains in his teachings a lesser example about the leader Hiero. Hiero was a private individual that became prince of Syracuse. The only element of fortune in his achievement was through the opportunity. The Syracusans were oppressed and had chosen him to be their captain. However, Hiero was of high virtue. He eliminated the old military and created a new one. This created a strong foundation for his principality. It was difficult to acquire the principality, but was easy to maintain. Machiavelli's teachings about these leaders are that if the person acquiring a new principality does so through high virtue it will be easy to maintain their principality. However, the difficulty will lie in attaining the principality and promulgating new orders, but once that is successfully eviscerated the trouble should cease to exist.
             The next lesson to be learned is how to gain the principality as a private individual. This can be achieved in two ways which are through crime or support from the citizens. In Machiavelli's teaching he uses the examples of Agathocles and Liverotto's actions to learn how a private individual can gain the principality through crime. Agathocles the Sicilian always kept to a life of crime. He turned to the military and once he rose through the ranks decided to become prince. He planned to hold the principality through violence. One morning he assembled the people and senate of Syracuse. Once assembled, at his order, his soldiers killed the senators and the richest people. After he had these people killed, "he seized and held the principate of that city without any civil controversy (Machiavelli 35)." Agathocles achieved this on the basis of virtue without virtue. This is where he was virtuous by entering and escaping dangers and without virtue through his cruelty and inhumanity. Another teaching by Machiavelli is through the example of Liverotto. Liverotto held a banquet for all the important men of Fermo. At the banquet the conversation became sensitive in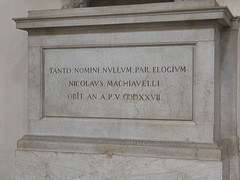 nature and Liverotto suggested going to a private room. Once all the men arrived in the private room, hidden soldiers came out and killed them. After this took place, "[Liverotto] besieged the highest magistracy in the palace so that through fear they were compelled to obey him and to establish a government of which he was made prince (Machiavelli 37)." All the people that could have hurt him were dead which made him secure in his principate. The only reason, Machiavelli explains, his principate did not last longer than a year is because he was deceived by Cesare Borgia. However, in regard to Agathocles, how could he "live for a long time secure in his fatherland, defend himself against external enemies, and never be conspired against by his citizens (Machiavelli 37)?" This can be attributed to the concept of the good or bad use of cruelty. The good use of cruelty is when it is all carried out in one stroke. The bad uses of cruelty are those which are increased over time. Machiavelli explains that it is important that;
 Injuries must be done all together, so that, being tasted less; and that benefits should be done little by little so that they may be tasted better. And above all, a prince should live with his subjects… (Machiavelli 38)

 The actions of the leaders in these examples teach that when a private individual acquires the principality through crime he must exert his cruelty in one stroke. He must also remain living with his subjects to exert greater control.
            Machiavelli's teachings now explain in what manner princes should keep faith. It has been shown by experience that those princes that have done great things are those who have taken little account of faith. It is the clever prince who is able to outwit other men that is successful. This teaches that there are two varieties of combat. The first is of laws which are proper to man. The second variety is with force which is proper to beast. Machiavelli explains that it is necessary for a prince to know both modes of combat:
To have as teacher a half-beast, half-man means nothing other than that a prince needs to know how to use both natures; and the one without the other is not lasting. (Machiavelli 69)
  When a prince finds it necessary to use the beast mode of combat he should use that of the fox and the lion. The fox is able to sense a trap while the lion is able to instill fear in strong adversaries. Alexander VI was an example used by Machiavelli because he "never did anything, nor ever thought of anything, but how to deceive men, and he always found a subject to whom he could do it (Machiavelli 70)." Due to deceit it is not necessary for a prince to have all of these qualities, but it is imperative to appear to have them. If a prince appears to have these qualities he will appear merciful, faithful, humane, honest, and religious. To maintain his state a prince must often avoid these qualities so it is important to appear to have them. Machiavelli states, "[a prince] should not depart from good, when possible, but know how to enter into evil, when forced by necessity (Machiavelli 70)." It is important that a prince never says anything that is adversarial to these five qualities. This will make him appear, in sight and sound, to his subject to have these qualities. The most important quality to appear to have is religion. Most people judge by what they see. Therefore, if a prince always appears to be a man of peace and faith the majority will always lend support. The few who do not lend support will never expose themselves for fear of opposing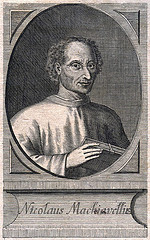 the majority. Machiavelli advocates, by example, that a prince should be deceitful and strong. In maintaining these qualities he will make himself appear merciful, faithful, humane, honest, and religious. It is through this appearance that the majority of the people will honor and praise him. This will allow the prince to successfully maintain his state.
            Machiavelli's teachings about previous leaders show how those leaders can be considered teacher's themselves through the lessons contained in their actions. Machiavelli makes this clear in his teachings about these teachers. Machiavelli's teachings about these teachers convey the important message of acquiring and maintaining leadership. The intricate details to attain this success rely on acquiring new principalities through virtue and overcoming difficulties with arms, the private individual's good use of cruelty in usurping a principality through crime, and how to be deceitful to successfully maintain the principality.
Works Cited
Machiavelli, Niccolò. The Prince. Chicago: The University of Chicago Press, 1998.
Photo by a.drian

Photo by Erik Daniel Drost

Photo by Stifts- och landsbiblioteket i Skara

Photo by Joshua Schnable